---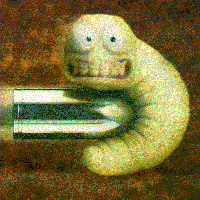 The Compost Heap
"Publish and damn them all"
---
(Before risking further harm, please read my introduction to the heap in 2002.)
Welcome to the heap, a pile of wit, wisdom and w--- written by me and now rotting under the noses of the whole net. Many of them have appeared in The Courier, the Aber student mag.
Further fair warning: the content of some of these pieces may cause difficulties for the easily-offended. If you are in this category, please return to your copy of the Daily Mail now. And if you're under 16, nothing I say is going to stop you corrupting yourself anyway.
Rotting under
"May God strike you down and make you sleep in the wet patch"
(Aber dips, 1995)
Also mulching nicely
The picture of Claude that appears at the top of this page was nicked from the Scrumpy Jack cider adverts without any permission whatsoever (don't you find my honesty disarming?). Claude is a highly paid stunt maggot, do not try this at home.
---

Ade Rixon Disclaimer: The opinions expressed in these articles should in no way be taken as representing the department or the college or even, in the event of hopeful libel cases, myself. Any such supposition is fundamentally flawed and very silly. My decision is final, yours is immaterial. M'lud.

Hosted by Big Bubbles (no trouble)